---
Morris The Cat: One Finicky Feline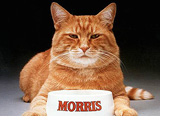 Surely there are fewer cats with more recognizable faces than the finicky orange tabby that represented Nine Lives Cat foods in his own inimitable feline way for so many years. Morris was an unlikely and rather reluctant star, who got at least the second of his nine lives when he was discovered in a suburban Chicago animal shelter back in 1968. His days were certainly numbered there as an adult stray male named Luck, but there remained an air about him that was different; this lonely tabby had style, personality and panache. It was love at first sight for professional animal trainer, Bob Martwick, who immediately adopted him and named him Morris. He then pitched his new companion to the Leo Burnett Advertising Agency for a new type of celebrity role for the cat food company, which used the voice of a man named John Irwin. A star was born and Morris soon became the most recognizable feline in the world!
Morris remains one of the most charming food icons of all time, even though several orange tabbys have replaced the original big guy who entered cat heaven in 1975. Even though he lost his bid for the presidency of the United States in 1992, the successors of this orange male tabby continue to reign supreme in the hearts of cat lovers everywhere!
---
Fala: Dog To a President

Probably there is no dog whose face has been seen in more newsreels over the last century than that of the Scottish Terrier that was Franklin Roosevelt's beloved pet. Born in 1940, the dog was a gift of Mrs. Augustus Kellogg of Westport, Connecticut, through Roosevelt's cousin, Margaret "Daisy" Suckle. His original name was Big Boy, but Roosevelt soon renamed him "Murray the Outlaw of Falahill" after a Scottish ancestor. That was then shortened to Fala, and before the dog went to the White House, Daisy taught him many tricks. He could sit up, roll over and jump on command. He became a part of the presidential household on November 10, 1940. Fala spent most of his time at the White House, although he did travel on trains with the president and to Hyde Park in Roosevelt's private car, which had special hand controls because he was crippled with polio.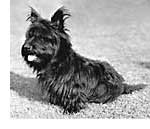 Each morning a bone was brought up for him on the President's breakfast tray. Although he was fed regularly, he constantly begged for food and because he was so adorable, everyone gave him some. This often made him sick and finally White House staff was instructed to not give the dog any food. At night, Fala slept in a special chair at the foot of the President's bed.
In 1942 a short movie was made of Fala at Hyde Park, and even today it is shown at the Roosevelt Museum to the delight of visitors, especially children. Fala was so popular that he received thousands of letters, and a secretary had to be appointed just to handle his fan mail!
He died on April 5, 1952, and is buried in the Rose Garden next to the sundial near his master.
---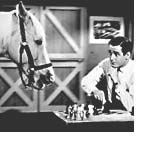 Mr. Ed: A Horse of Many Words

This television situation comedy appeared on CBS from 1961 to 1966. The stars of the show were Wilbur Post (played by Allen Young) and Mister Ed (a palomino American Saddlebred whose real name was Bamboo Harvester). Based on the short story, "Ed Takes The Pledge" by Walter R. Brooks, the show's humor was derived from the fact that Mister Ed spoke only to his owner, Wilbur. Similar in concept to Francis the Talking Mule, the voice of Mr. Ed belonged to actor Alan Lane.
In 1970, at the age of 19, Mr. Ed, suffering from a broken leg and other health problems, was put to sleep with no fanfare or publicity. In 1986, a mad Ohio evangelist claimed that the theme from the show, written by Jay Livingston, when played backward, contained the secret message, "Someone sung this song for Satan!"
---
Porky Pig: Beloved Porcine Icon

Porky the Pig began his rotund ramblings in March of 1935 when he was introduced in the film short, "I Haven't Got a Hat." Designed by animator, Bob Clampett, the pig who only had one line in the film, stole the show, proving that Orson Welles was right when he said: "There are no small parts; only small actors."
The film short was directed by Fritz Freleng and the name, Porky Pig, came from his two childhood classmates named "Porky" and "Piggy" respectively. Porky Pig started out as a shy little fellow with a stutter, and was soon transformed into an immensely fat pig who got most of the laughs in his early films. In 1937, Mel Blanc took over his voice as the original voice man, Joe Dougherty, had a real stutter and couldn't control it. By the late 1930s, Porky the Pig was the star of dozens of films. In each one, he became cuter, smarter and less of a stutterer until he finally became a "pig of the world", so to speak.
Porky was always a Warner Brothers' favorite. He was paired with Daffy Duck, Elmer Fudd, Sylvester the Cat and Bugs Bunny. His quiet demeanor made him the perfect foil for some of the zanier cartoon characters. In the early 1960s, his image enjoyed regular rotation in television syndication and in 1964, he got his own Saturday morning cartoon, the Porky Pig Show, which ran until 1967. He continued to star in television and films into the 1990s.
He is still in action today, voiced by Bob Bergen. He's come a long way for a pig who has never, ever even worn pants!
---

Rin Tin Tin

Rin Tin Tin represents one of the oldest continous bloodlines in the more than 100-year history of the German Shepherd dog. Discovered as a puppy in a bombed World War One kennel in Lorraine, France, by American serviceman, Lee Duncan, Rin Tin Tin's name came from the tiny French puppets children gave to American soldiers for good luck. His sister, Nanette and he were taken to America after the war where Duncan trained the dogs to perform. Nanette died soon after of distemper, but Rin Tin Tin went on to become a most unusual performer at dog shows. In one instance, in 1922, he jumped 13-1/2 feet. As luck would have it, Darrell Zanuck was in the audience and offered Duncan $350 to film the dog in action.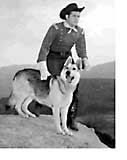 Putting this special dog in film became Duncan's obsession. On one occasion, he saw a film crew trying to no avail to shoot a scene with a wolf. He approached the crew, assuring them that he and his dog could do the scene in a single take. He persisted and they relented. The scene was successful. The dog remained on for the filming of "Man From Hell's River", and a new and different star was born. The financial success of this film saved Warner Brothers, who were on the verge of bankruptcy. At the peak of his career, he received some 10,000 fan letters a week and was considered one of Hollywood's top stars. Rin Tin Tin went on to make 26 pictures before his death on August 10, 1932.
There's a wonderful
RinTinTin Fan Club
(and museum) where you can learn a lot more about the continuing line of descendants.
---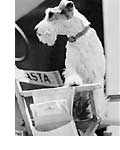 Asta: Light, Camera, Action!

Asta was a very popular Wire-Haired Terrier who was much more than just a dog. He was a movie star and central to the action of the ever-popular series, "The Thin Man," which co-starred William Powell and Myrna Loy. He hid from danger, sniffed out dead corpses and in general was the playful companion of his owners, Nick and Nora Charles. He was so very well loved that public demand for Wire-Haired Fox Terriers led to over breeding. Thanks to Turner Classic Movies, his image is immortalized and enjoyed as much today as back in the 1930s when the films were made.
His owner, Henry East, and veteran dog trainer, Frank Weatherwax, trained Asta. He appeared in a number of movies besides "The Thin Man" including "Topper Takes A Trip", "Bringing Up Baby" and "The Awful Truth". Several generations of Astas were used in the movies. Oddly, the original character of Asta as written by Dashiell Hammett was not a Wire-Haired Fox Terrier, but a Schnauzer.
But no one ever told that to Asta. He didn't need to know because he was and still is …a star!
---